Royal Holiday means there's never anything more important than member and guest safety. Here's a little "how-to" on what we've done to improve your next visit to Cancun. Whether you're staying at the  Grand Park Royal Cancun or the classic Park Royal Beach Cancun, your stay is safer as the Park Royal has instituted the SAFE GUEST PROGRAM standards program across the resort chain.
From the moment you get there, you'll find sanitizing mats for footwear, all guests are screen for heightened temperatures, and a staff member carries out a quick disinfection of your baggage.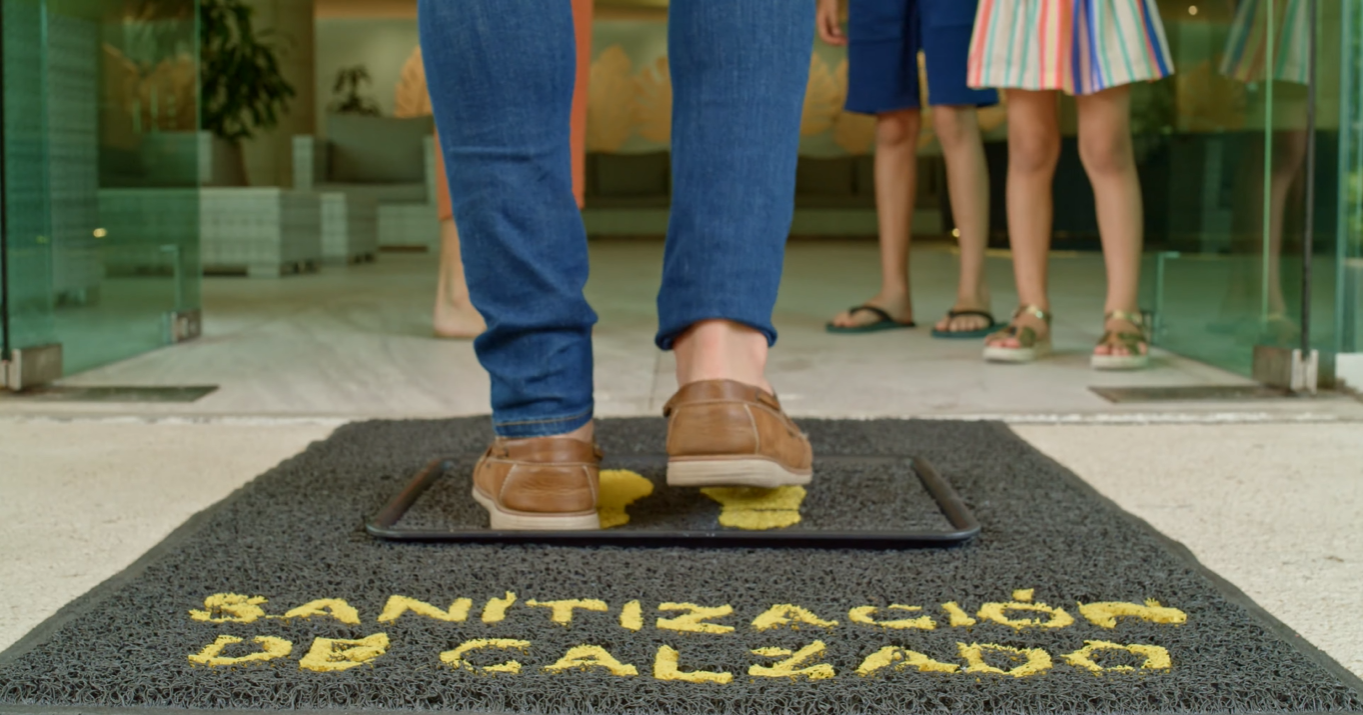 You'll feel safe right at check-in! Reception areas are disinfected between every procedure. The process was designed to safeguard members, guests, and staff. Likewise, everyone has been trained to maintain safe social distances, too.
Don't forget, you can make use of multiple stations with antibacterial gel at strategic locations throughout the resort. Similarly, staff are trained to clean and disinfect all areas of the resort, continually. That includes in elevators, handrails, and recreation areas, and this at the resort chain famous for being fanatically clean.
Relax in a guest room just for you! All guests are receiving an extra, personal hygiene kit. But the interior of your room was disinfected with ECOLAB® products before you got there, too. Cleaning takes place under strict protocols that meet CRISTAL INTERNATIONAL STANDARDS®.
All these measures are applied in common areas too. Swimming pools and beach loungers are spaced at a strict 1.5 meters between each pair. Want to exercise? Sports facilities and equipment are being disinfected even at the Park Royal's famously wide open fitness center. Likewise, spa amenities are sanitized and delivered factory sealed.
This all applies in restaurants and kitchen areas too! Dining capacities are significantly reduced and tables have been removed to give every party plenty of space. Menus, furniture, and fixtures are also being disinfected throughout the day, and sterile utensils are delivered right to your table.
The day before check-out, you can even do an express check-out tat means we keep the lobby free and wide open. Just deposit your room key in a special urn at reception, and you'll be off safe and sound.
Staff have been specially trained to implement all of these measures so that your stay will be one you'll never forget. With audits being cared out regularly, you can be sure you've never had a safer stay.
For more details, and some of the standards established in the SAFE GUEST PROGRAM, click here.