Not only is Cancún internationally famous for its spectacular beaches and fantastic hotels, but for its gastronomy. You'll find unique dining spots where to treat your palate to an unforgettable culinary experience. These 5 restaurants offer some of the world's finest gastronomy, according to Trip Advisor travelers.
Blvd. Kukulcán Km 16.5, Zona Hotelera, 77500 Cancún, Q.R.
The White Box is a gastrobar created by Chef Rafael Zafra, who worked alongside Chef Ferran Adrià at the five times best restaurant in the world, El Bulli. White Box forms part of a gastronomic movement where Michelin starred chefs began transporting their culinary expertise to more laidback surroundings, providing high quality food to a wider audience.
Du Mexique,

French gastronomy with a Mexican touch
Bonampak 109, Kaan-chac, 77500 Cancún, Q.R.
Owned by Chef Alain Grimond and his wife Sonya, this cozy and sophisticated French restaurant near downtown combines the best of Mexico's fresh ingredients with classic French technique. Du Mexique's service is extremely personal (and reservations are pretty much necessary). Chef Alain Grimond, who hails from Lyon, France, personally takes your order. Think of it as an intimate dinner party with really fantastic food.
Av. Bonampak, 77500 Cancún, Q.R.
Chef Peter's international creations are not only delicious, but a work of art as well. Peter's food is definitely some of the best in Cancún. Prices are reasonable for the high quality of food. Its cozy, friendly and casual atmosphere is one the new favorites. Seating is limited so reservations are a very good idea.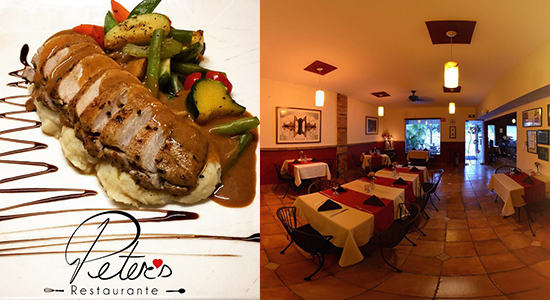 Tempo,

Basque contemporary cuisine
Blvd. Kukulcán Km 16.5, 77500 Cancún, Q.R.
Winner of 7 Michelin stars, Spanish Chef Martín Berasategui offers a selection of Basque culinary specialties using the best ingredients of the earth, the field and the sea; all cooked with respect and elegance.
Av. Cobá 87 Mz 9 SM 3, Centro, 77500 Cancún, Q.R.
Opened in 1983 by George Savio, La Dolce Vita soon became the place to dine in Cancún. The spirit lives on with owners Tim Savio and Juan José Casal. The menu emphasizes homemade pasta and fresh seafood complemented by a fine wine list. A charming, cozy & intimate atmosphere with
friendly service will seduce your palate. They also serve a delicious breakfast menu, which includes scrumptious Eggs Benedict.
Bon Voyage and Bon Appétit!