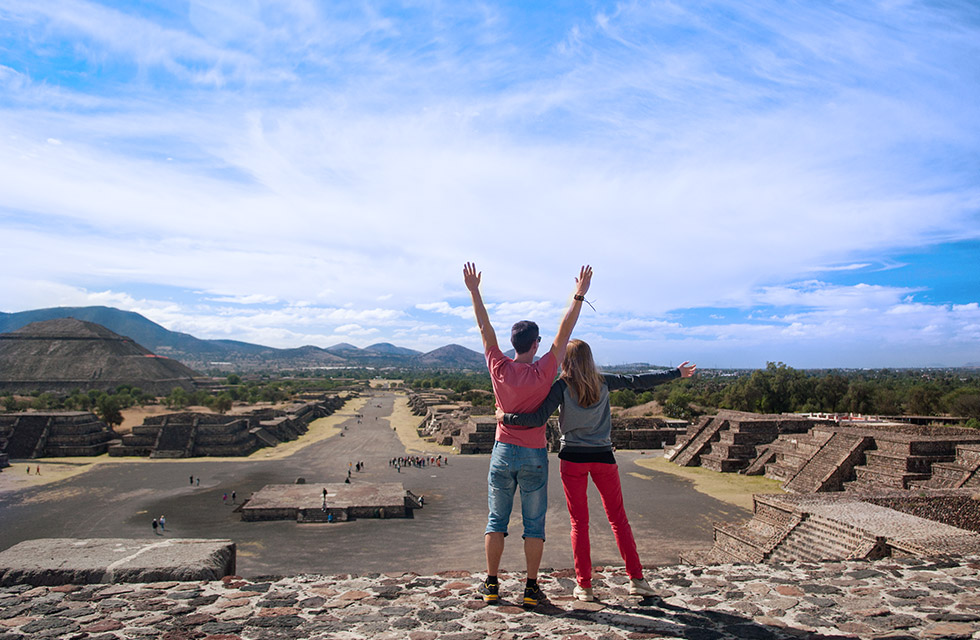 Mexico is home to almost 2,000 registered archaeological sites. Less than 200, however, are open to the public and can be seen—making it impossible to see them all! We recommend you start at the most visited sites of all: Teotihuacán and Chichén Itzá. And if you visit the Mexican Caribbean, do not miss Tulum.
Teotihuacán, State of Mexico
This is the most visited archaeological site in Mexico, partly because of its proximity to Mexico City, but especially because of its spectacular pyramids of the Sun and the Moon. Teotihuacán comes from the Nahuatl word that means "city of the gods" and it flourished in third and fourth centuries A.D. reaching almost 200,000 inhabitants.
Today, the area open to the public covers 652 acres. Be sure to visit the Great Compound with the Temple of Quetzalcoatl (also known as Temple of the Plumed Serpent). You'll also want to walk along the "Calzada de los Muertos," or the main causeway known as the "street of the dead." Be sure to check out the vibrant and exceptionally well-preserved murals such as Tetitla, Atetelco, Tepantitla and La Ventanilla.
Chichen Itza, Yucatan
This splendid city was founded by the Mayas between the years 325 and 550 A.D., but didn't reach its total splendor until the 12th century. It was a ceremonial center dedicated to Kukulcan, the god represented by a feathered serpent and in fact the Temple to Kukulcan is the most important building.
During the two equinoxes of the year, the position of the sun at dusk produces a shadow on the steps of the temple that forms the outline of a feathered serpent. It is an amazing sight.
Chichen Itza was named a World Heritage Site by UNESCO in 1988 and in 2007 it was named one of the seven new wonders of the world in a vote in which more than 100 million people participated.
Tulum, Quintana Roo
This archaeological site is located 81 miles from Cancun, within the Tulum National Park, where you can practice scuba diving and sunbathe on the beaches.
Tulum is spectacular in part because it is located on a cliff facing the Caribbean Sea, with turquoise waters in the background and unforgettable views. It was a center of commerce, an astronomical observatory and a fort during the thirteenth and fourteenth centuries. Visit the Castle, the Temple of the Descending God and the Temple of Frescos. On your next visit to Cancun, Playa del Carmen or Cozumel, do not miss this magical place.
Take advantage of your Royal Holiday membership to visit Mexico and marvel at its pre-Hispanic heritage!